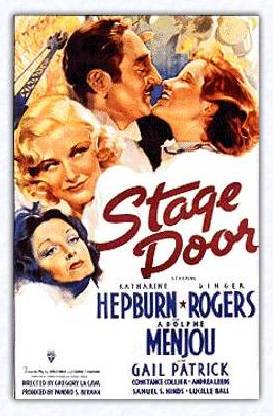 IMDb Synopsis:

A boardinghouse full of aspiring actresses and their ambitions, dreams and disappointments.
"The cala lilies are in bloom again"
I honestly have no idea how to start this review. I can, however, say I loved this film.
I was quite surprised to find a Katharine Hepburn performance from the 1930s that I enjoyed. Don't get me wrong, I do enjoy Little Women and Bringing Up Baby, but I've never cared for her acting until I saw her films from the fifties and sixties when I feel her performances were much stronger and more mature. But in Stage Door, her acting is superb and she brings a lot of depth to Terri Randall's character.
The whole cast is amazing. Besides Hepburn, I think the best performance is from Andrea Leeds as Kay Hamilton, who received an Best Supporting Actress Academy Award nomination for her work. I also really enjoyed Ginger Rogers, who I've been giving more of a chance lately, and a great Lucille Ball in her early comedy days.
Overall, Stage Door is a wonderfully made film from director Gregory La Cava. Definitely recommending to any classic film fans.
Best Supporting Actress Nominee, Andrea Leeds
Best Director Nominee, Gregory La Cava
Best Writing, Screenplay Nominee