IMDb Synopsis: A private detective takes on a case that involves him with three eccentric criminals, a gorgeous liar, and their quest for a priceless statuette.
When I first started my 'Noir of the Month' series in January, I already predicted that there would eventually be a post on one of my all-time favorite films,
The Maltese Falcon
. Released in 1941, the film stars Humphrey Bogart, Mary Astor, Sydney Greenstreet, and Peter Lorre; directed by John Huston.
Falcon is remembered for a large number of reasons- it's considered to be the grandfather of film noir, it marks John Huston's directing debut as well as Sydney Greenstreet's acting debut in an Oscar-nominated performance, and it features Bogie as Sam Spade who gives some of the most memorable quotes in film history, including "The stuff that dreams are made of" and "I don't mind a reasonable amount of trouble".
This is actually the third screen adaption of the novel by Dashiell Hammett- there were two previous versions- the 1931 pre-code of the same name and the 1936 film Satan Met a Lady. I've seen neither, but I've heard they should both be skipped.
The performances in this film are absolutely incredible. Bogie should have at least gotten an Oscar nom for his work, along with Mary Astor for Best Supporting Actress (although she won the award that year for The Great Lie
). The lead performers are also well accompanied by Sydney Greenstreet and Peter Lorre (Trivia- Lorre stated this was his favorite of all his films).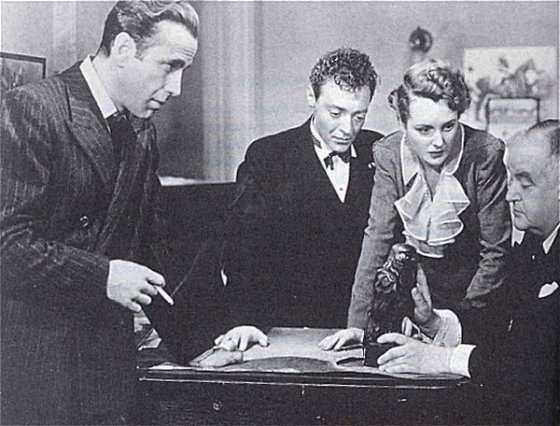 I absolutely must say a few words about the directing: Huston's work is just marvelous. I actually was shocked when I found out this was his first film. The effects, camera shots, and lighting in The Maltese Falcon rank him with directors like Alfred Hitchcock and Otto Preminger.
I think we can all agree that The Maltese Falcon really is "the stuff that dreams are made of."