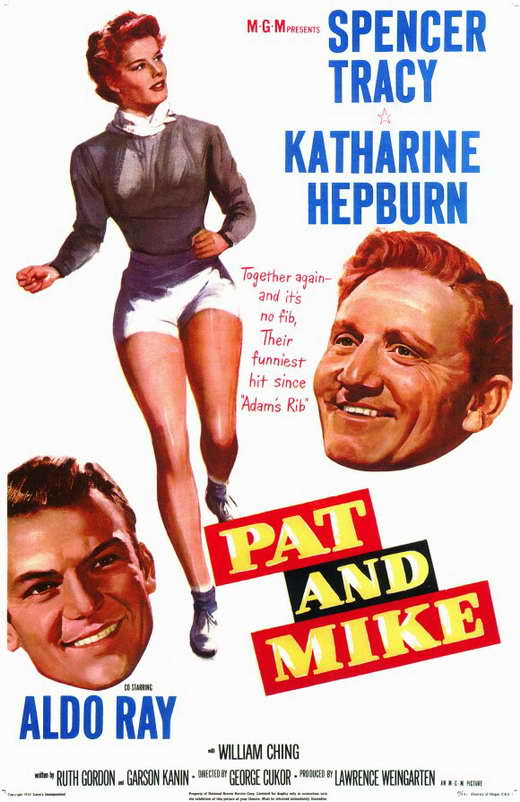 IMDb Synopsis:

Pat Pemberton is a women's sports sensation - a champion in golf, tennis, and whatever else she decides to do. Knowing a good thing when he sees it, Mike Conovan becomes her manager. Mike has made his living fixing sports events, but he tries to go legit before Pat finds out his schemes.
It's quite rare that I review two romantic comedies in a row (as I just reviewed Designing Woman last week). It's also rare that I love both of
them.
I've written this in several posts before, but Katharine Hepburn is one of my favorite actresses of all time, and I absolutely love her films with Spencer Tracy. I've read before that this film was written specifically for them, and for good reason. They play so well off of each other, just as they do in other films, such as Adam's Rib and Woman of the Year, their first collaboration together. I thought both of their performances were marvelous, and I'm actually quite surprised they didn't receive Oscar nominations in 1953.
George Cukor has come to be one of my favorite directors as of late. He directed Hepburn in at least nine films, including her film debut, A Bill of Divorcement, and two more of the nine Tracy/Hepburn films, Keeper of the Flame and Adam's Rib. Pat and Mike is one of his finest works as a director, and I think he should receive more recognition for it.
Overall, I found Pat and Mike to be a delightful film- one of the best to come out of the 1950s. Definitely recommending.