..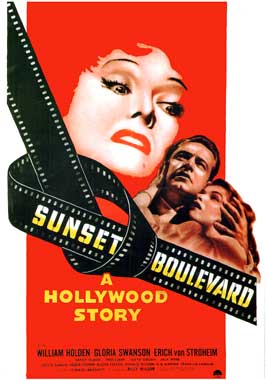 My post for Film Classics Film Noir Contest. I know this post is a bit late, as I just found out about it last night.
Two films instantly come to my mind when I hear the words "film noir":
Sunset Boulevard
and
The Maltese Falcon
.
Since I just wrote about
Falcon
a few months ago, I decided to talk about
Sunset
instead.
Sunset Boulevard
is what I consider to be the best film noir to come out of Hollywood in the nineteen-fifties. It's one of my favorites and is considered one of the greatest films of all time by many critics.
Sometimes, when discussing or reviewing a film, it's said that one certain element completes it- whether it be the acting, the plot, the direction, the score, etc. With
Sunset Boulevard
, it's all of these elements and more that make it the phenomenal film it is today.
William Holden, Nancy Olson, Erich von Stroheim all deliver wonderful performances (as they all received Oscar nominations), but it's really Gloria Swanson's film. As much as I loved Judy Holliday in
Born Yesterday
, Swanson should have won the Best Actress Academy Award in 1951, since she gave possibly the greatest screen performance of all time. I always find myself feeling mesmerized during the final scene as she says, "All right, Mr. DeMille, I'm ready for my close-up", as she descends into madness:
Sunset Blvd wouldn't be the great film it is without Billy Wilder. From his flawless direction, to his infamously quotable script ("I am big. It's the pictures that got small."). He and Swanson both make the film complete. I think Roger Ebert summed it up best when he wrote:
"...who else can field two contenders among the greatest closing lines of all time? From ``Some Like It Hot'' there is ``Nobody's perfect.'' And from ``Sunset Boulevard,'' Norma Desmond's: ``There's nothing else. Just us, and the cameras, and those wonderful people out there in the dark. All right, Mr. De Mille, I'm ready for my closeup.''
If you haven't seen Sunset Blvd yet, you can do so here. Also, a big thanks to David from Film Classics for hosting this contest!