Since most of my posts during the month of December are going to be Bogie-centeric, I wanted to take some time over the next week to talk about some of my favorite films to watch over the holidays. My all time favorite Christmas film (and one of my favorite films in general) is Frank Capra's
It's a Wonderful Life
.
Released in 1946 and starring James Stewart and Donna Reed, the film tells the story of George Bailey (Stewart), a family man on the brink of suicide and feels that his loved ones would be better off had he never lived. George then receives a visit from an angel (Henry Travers) who shows him what the small town of Bedford Falls would have been like without him and makes him realize that his life is pretty wonderful, after all.
With certain films, there is one specific quality that makes it memorable. Sometimes it's the acting, the direction or the script. With
It's a Wonderful Life
, it's all these and more that make it the cinematic masterpiece it is today.
"Dear Father in Heaven, I'm not a praying man, but if you're up there and you can hear me, show me the way."
I'm always mesmerized by the talent that the actors posses, particularly James Stewart. Stewart was such a marvelous actor, and one thing that contributed to this was his ability to do well in any genre of film. He could do comedy (
The Philadelphia Story
), western (
The Man Who Shot Liberty Valance
) and thriller (
Vertigo
) with each performance being equally great. He often brings me to tears several times during the movie, but two scenes stand out the most for me: the first being the scene where George prays in the bar and the second when Harry toasts George as "the richest man in town". The emotions in
It's a Wonderful Life
are so real and effective. I dare you not to cry while watching it.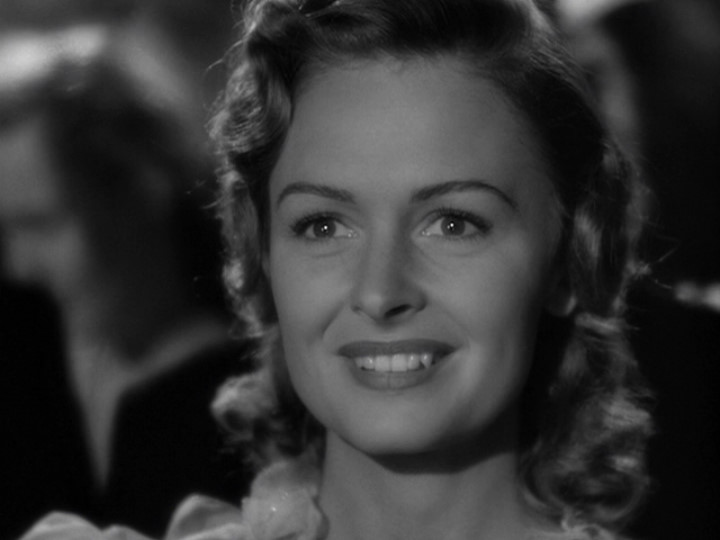 Then there's Donna Reed, who is one of my favorite underrated actresses. Reed, like Stewart, also did well playing in versatile roles- here, she portrays the devoted wife and loving mother, yet she won her sole Academy Award playing a prostitute in From Here to Eternity. I also love the way she acts alongside Stewart, their chemistry together, especially in the telephone scene is unforgettable.
Also in the supporting cast are Lionel Barrymore as Mr. Potter and Thomas Mitchell as Uncle Billy. This is one of Barrymore's finest performances, even though he plays what was probably his most evil character. While Mitchell is seldom mentioned among popular actors today, he appeared in several iconic films- Gone With the Wind, Stagecoach (for which he won an Oscar) and High Noon, to name a few. It's nice to see him playing the comical character since this is definitely a dramatic film.
The film's screenplay was adapted from the short story The Greatest Gift written by Phillip Van Doren Stern. Doren unsuccessfully attempted to publish the story, and made it into a Christmas card instead. This attracted attention from RKO's David Hempstead, who mentioned it to Cary Grant's agent. In 1944, RKO bought the rights hoping to have Grant play George, he, however, went on to star in The Bishop's Wife instead (which I will be discussing in a blog post over the next few days).
Frank Capra then read The Greatest Gift and saw potential within the story. This is great because no one besides Capra could have made this movie as well as he did. The script is perfect- the dialogue pulls at the viewers' heartstrings without being too over-the-top (I personally think the term "Capra-corn" was undeserved). Capra's flawless direction only adds to the film. His camera shots are stunning, from the opening scene featuring a visual of "heaven" as the citizens of Bedford Falls pray for George, to the scene on the bridge where he contemplates taking his own life.
"...Every time a bell rings, an angel gets its wings."


In 2006, the American Film Institute named It's a Wonderful Life the most inspirational film ever made, and it is. Frank Capra's work continues to be a heartwarming story that sparks the dreamer in all of us and reminds the viewer not to take what life has to offer for granted. If you have yet to see this film, I hope you change that this holiday season.